lcviews White Paper on Trade Finance Compliance
This is the first white paper issued by lcviews.com.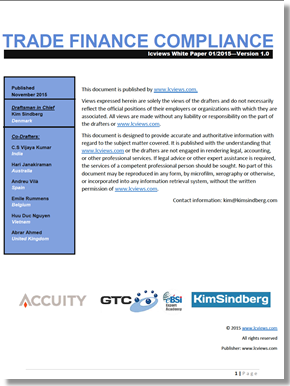 It has been expressed clearly by many Trade Finance banks that there is a need for a more structured and standardised approach to Trade Finance Compliance.
Different parties have made attempts for this, however no such attempt has been made by persons who have a core background from Trade Finance. The drafters of this document have exactly that – and that is what makes this document different from any other document available on this topic today.
By that it is the hope that the document will make a real difference in the understanding in and approach to Trade Finance Compliance. Of course this is not the "final answer" – but it is an answer that hopefully will help "maturing" the area.
The document is drafted by:
Draftsman in Chief:
Kim Sindberg
Co-Drafters:
Hari Janakiraman (Australia)
C.S. Vijaya Kumaar (India)
Andreu Vilà (Spain)
Emile Rummens (Belgium)
Huu Duc Nguyen (Vietnam)
Abrar Ahmed (United kingdom)
The document has been made possible by the involved sponsors and partners:
Version 1.0 is published: November 2015
Please Login To Download The Complete File